Gem-A 2014 Photo Competition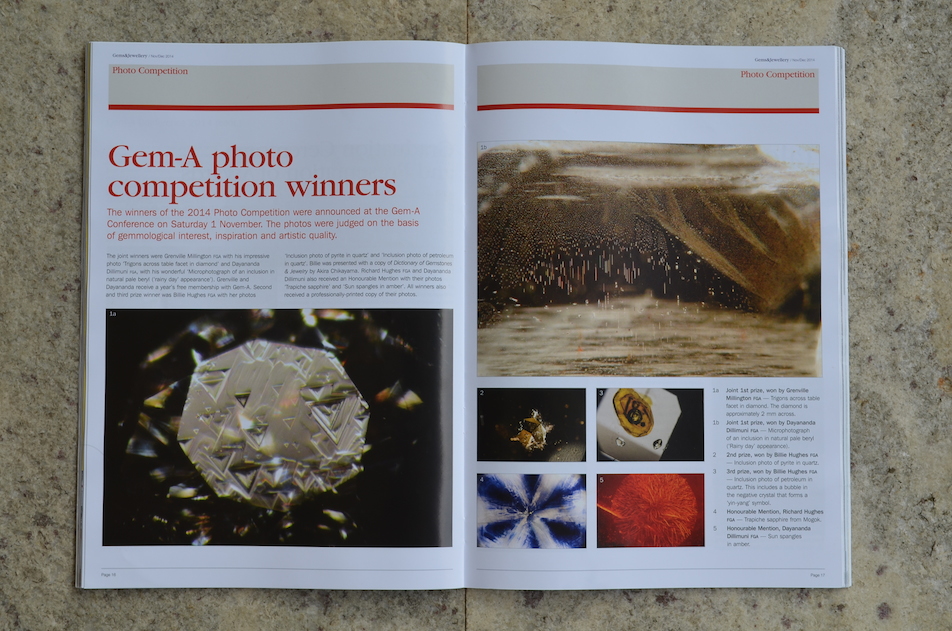 The Gems & Jewellery magazine is by The Gemmological Association of Great Britain. This is where I learned all about gems (and still learning as new things pop up…) I have always loved the photo competition and I congratulate all those who won. Stunning images!
I'm delighted to share this article especially because one of the first prize winners is Mr Dayananda Dillimuni who trained my group in preparation for the gemmology practical exam.
He won a joint first prize for the top right image, which is a microphotograph of an inclusion in natural pale beryl ('Rainy day' appearance).He also received an Honourable Mention for the Sun spangles in Amber (bottom right).
Mr Dayananda Dillimuni lives and tutors in Colombo, Sri Lanka. He is a highly qualified senior gemologist as well as a brilliant tutor. He is one of those rare and humble individuals, who is generous with both time and knowledge.
Do you have any gemstone you want tested? He is the go to expert I recommend.
If you are interested, comment below or feel free to get in touch through the contact page and I'd be happy to send more details.
Gem/Gem Stories/
31 December 2014