Theo Fennell ~ Miniature Narnia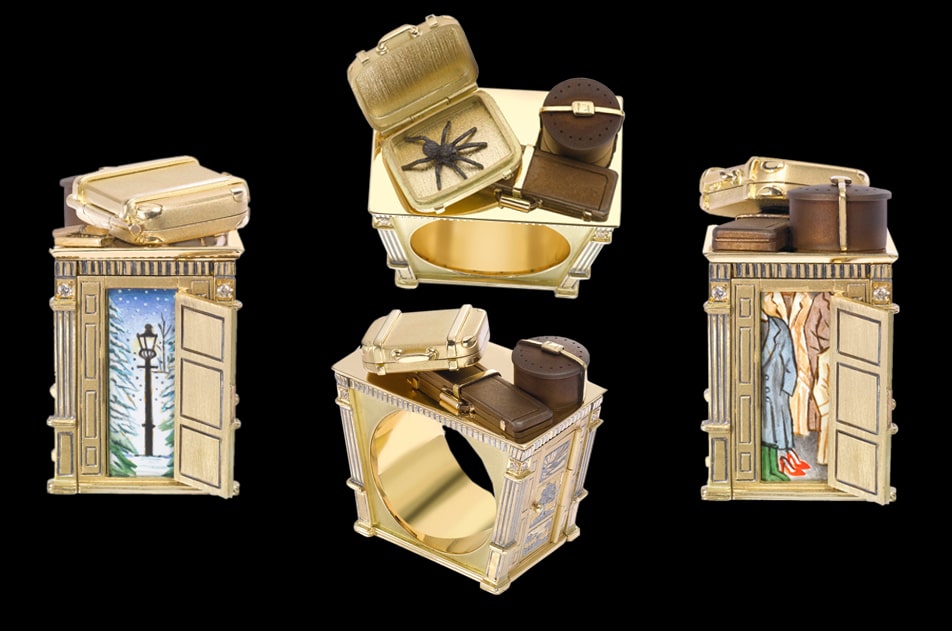 What do you think of this precious, whimsical beauty?
The moment my eyes fell on these images, I fell so in love with the ring. Just wishing and willing to be in a place (in life) where I can buy it and make it my own and carry with me a bit of fantasy everywhere I go…
It so happens that my daughter, months ago, had her nose buried in the Chronicles of Narnia by C.S. Lewiswritten in 1949. She was lured into the series by  The Lion, the Witch and the Wardrobe. This is where Lucy discovers the wardrobe and stumbles into Narnia, where adventures begin with fantasy creatures reminiscent of Greek mythology…
I love the miniature details of the hinged doors of the wardrobe, and the concept of Narnia on a ring in 18k gold. Exquisite craftsmanship! What incredibly skilled artists these craftsmen are.  You can see more of his creations on the Theo Fennell website.
How amazing it would be to be able to have parts of our own story, or even a single story or memory, crafted into a ring in a metal of our choice… which can also be passed down to generations…
Would you wear something like this?
Jewelry/Jewelry Stories/
24 December 2014